R.E - Religious Education
Here is an example of friendship, one of our values (Summer 2018):
We are currently developing the visual representation of our Values - Oct 2017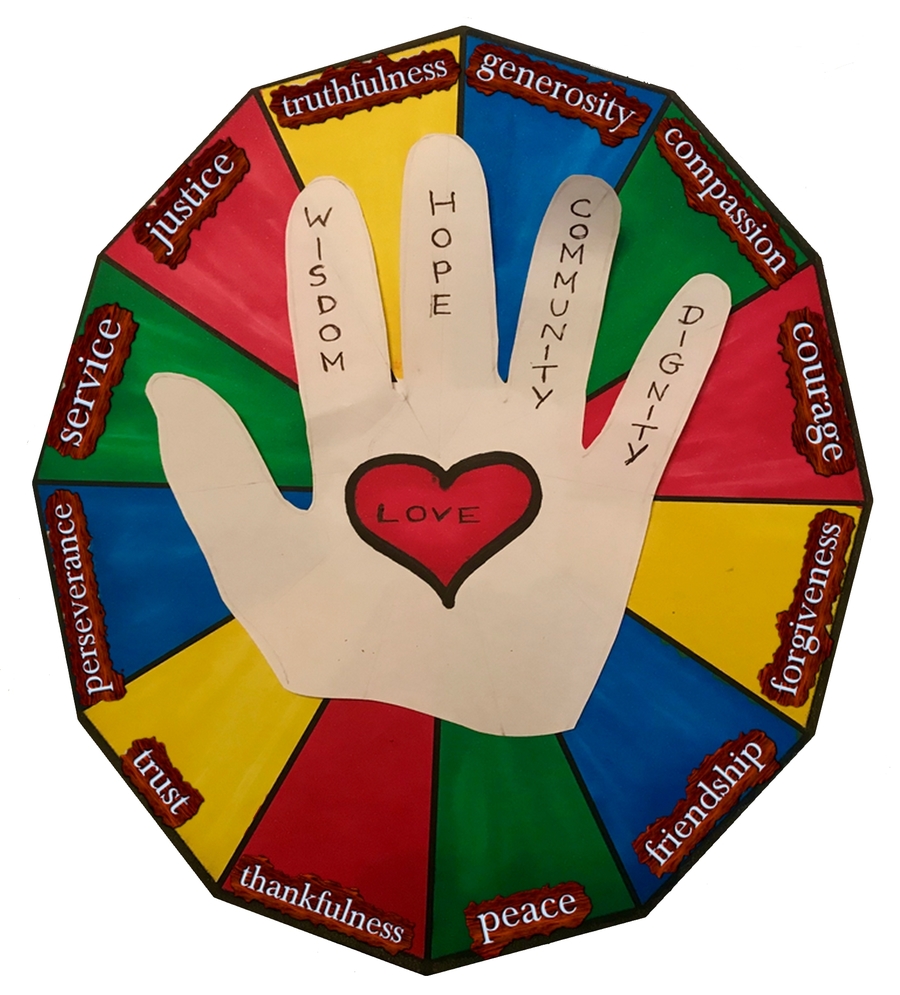 September to October 2018 - Value is Thankfulness
June to July 2018 - Value is Peace
January to February - Value is Courage - 2018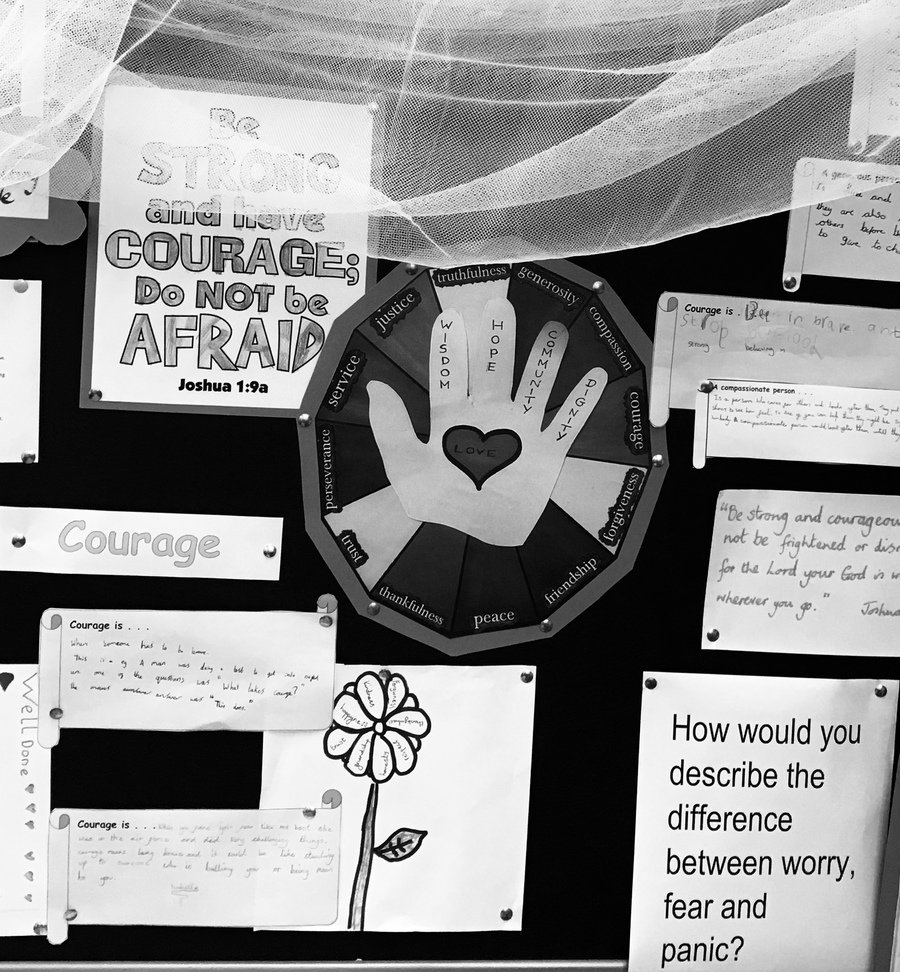 November to December 2017 - Value is Compassion . . . .at the beginning
September to October 2017 - Value is Generosity
Religious and Moral Education and Collective Worship

.E
Our school encourages children to develop an awareness of the universal moral principles 
of right and wrong, justice and fairness and a proper concern for the fate of others and 
the world.
Through Religious Education, staff and pupils celebrate the values and ethos 
of the school and explore the Christian nature of our Church of England school.
An awareness of, and a sense of belonging to, the many different dimensions of the school's local and global community is encouraged. Furthermore, children at Bishopstone apply their own beliefs and values within the context of the school community.
We now follow the NEW Swindon agreed syllabus that was launched on 8th November 2016 at Tadpole Farm. A copy can be viewed here: Swindon RE Syllabus.
This is taught alongside the scheme from the Diocese - Understanding Christianity.
Children learn and develop:

A knowledge and understanding of Christianity and its impact on our local community 
and on our society today

A knowledge and understanding of some of the other principal religious traditions represented in Great Britain today

A sense of respect for religious traditions, beliefs and practice

Growth in their spiritual development

A sense of awe and wonder and mystery
Skills and attitudes that will support their personal, moral, social and cultural development.
Collective Worship is embedded within the school day.
The school meets daily as a class or whole school.
We have regular assemblies led by our Vicar – Rev. William O'Connell.
We also welcome many guests to develop the children's beliefs and understanding of the world around them. Please contact the school if you feel you would like to participate in our assemblies, you are warmly welcome.
Each term we start with a 'Values' week where we fully immerse the children in all subjects. For example, September saw us launch Generosity - this was guided by the book The Quiltmakers Gift. All lessons throughout the school were tied into this, with constant reflection around Generosity. We carry the Value through to Collective Worship and also then on going work on a Wednesday morning.
An example of the linked lessons can be found below, alongside PSHE/English and Maths links.
An example of whole school planning for Autumn Term 1:
Date

RE Scheme Unit

Value

Linked book for curriculum week

Special visitor/ Children's Rights

Special Days that occur

Term: Autumn 1 2017

Rec/1 – How can we learn from sacred books?

Y2 – Who is Christian?

Y3/4 – What do different people believe about God?

Y5/6 – If God is everywhere?

Generosity

The Quiltmaker's Gift (2000) by Jeff Brumbeau

Every child has the right to a decent standard of living

Harvest

Divali
We loved taking part in the wonderful iSing POP concert in our Parish Church - please click here for details.
The Lord's Prayer - Our Child-Friendly version 1:
We used "Green Screen" technology, combined with animation to retell the story of Jonah:
The Bible in Slow Motion: